BELIEVE & ACHIEVE
Award winning, Eagle Gymnastics Academy...
Where Children Soar to New Heights!
We will be closed November 26-29th for Thanksgiving. Happy Holidays!
Call 972-712-4644 to schedule your free trial class!
We strive to provide quality programs that focus on FUN, FITNESS and FUNDAMENTALS to children of all ages. Our professional coaching staff is committed to providing our young champions a strong foundation for learning and the confidence they need to succeed.
Registration in our class program is available all year round, depending on availability. We keep our student-teacher ratio small to ensure our students receive excellent instruction and attention during their classes. We offer beginner through advanced recreational gymnastics for children ages 18 months to 16 years as well as a tumbling and trampoline program for children ages 8-16. Our full class schedule is available here.
We offer competitive programs for Women's and Men's Gymnastics and Tumbling & Trampoline under USA Gymnastics Jr. Olympic Program.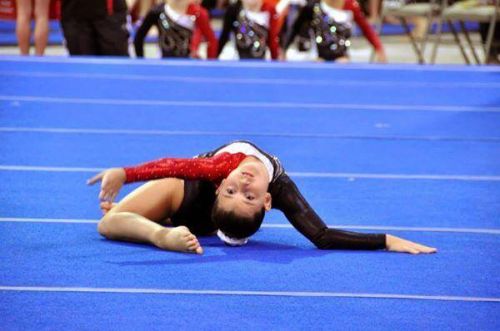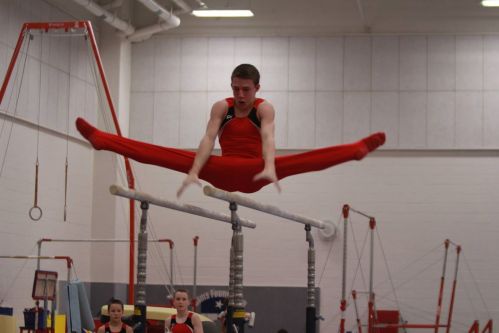 Congratulations to owners, Ginger Fox and Carol Van Biezen for being awarded Frisco Style's, Best of Business Award for 2014.
CONGRATULATIONS STATE CHAMPIONS!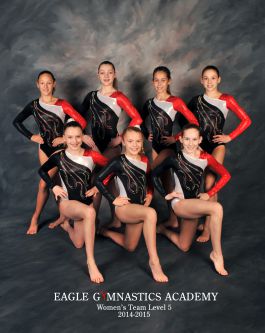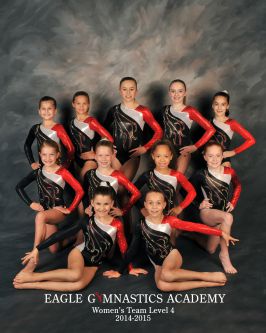 Congratulations to our new State Champions! Our level 5 team competed in Garland on November 15-16th against the best in Texas and returned to Frisco with 3 State Titles! In the Jr. B2 division, Amanda Beauregard earned the silver medal on beam and finished the meet with a personal best All Around score of 37.225. In the Jr. C1 division, Kammie Green became the State Champion on Vault and Floor and earned silver on Beam and the All Around. Nicole Kula (Jr. C3) earned 7th place on bars and finished 9th AA. In the Sr. C1 division, Ana Laura Faoro became the State Champion on Vault and placed 4th on floor. In the Sr. C2 division, Alex Blunt placed 5th on vault, Anna Bower earned the bronze medal on Beam and placed 4th AA, while teammate Lauren Gamble earned the bronze medal on bars, placed 4th on beam and floor and earned the bronze medal in the AA.
On November 22-23 the level 4 girls travelled to Houston for State Championships. Starting out the meet on Saturday were our Senior level competitors. In the Sr. A1 division, Ashlynn Carter-Frye earned the bronze medal on floor and finished 6th AA. Kyla Nelson Sr. A3) placed 5th on bars and floor and placed 6th AA. Julia Rowe (Sr. C2) placed 4th on vault and 6th AA. On Sunday, our Junior level athletes faced tough competition. Haliey Bryant (Jr. B1) placed 7th on beam, Emma Nelson (Jr. B2) placed 6th on vault and floor, Annabel Poduska (Jr. B3) placed 6th on beam and Anna Richey (Jr. B3) earned the bronze medal on beam. In the final session on Sunday, Taryn Van Biezen (Jr. A3) placed 4th on bars and earned the State Champion title on beam. Congratulations girls, it was a great end to a busy season!
Check out Eagle on FACEBOOK! Eagle parents - we would love for you to share your pictures and comments with us, a drawing will be made each month for an Eagle Gift Certificate from all entries.
UPCOMING EVENTS
MUSIC, MUSCLES & MORE

- 9:00 - Noon - EVERY FRIDAY MORNING! - Children ages 3-5. This fun camp includes games, a craft, musical activities and plenty of gymnastics to keep the children busy and having fun while Mom get's some errands run! Reservations must be made in advance, this program fills quickly each week. Call 972-712-4644 to register.



HOME SCHOOL GYMNASTICS PROGRAM - This class is structured for homeschoolers to provide excellent instruction on the apparatus and allow some time for open gym practice time. The program is offered on Tuesday and Friday from 1:00 - 2:30 for children ages 4 and up. We provide one hour of instruction followed by 30 minutes of open gym time. This is not a drop-in program, students attend the classes weekly to ensure high quality instruction.

Please call 972-712-4644 for more details or to reserve your spot today!



We will be closed November 26-29 for Thanksgiving holidays.