BELIEVE & ACHIEVE
Eagle Gymnastics Academy...
Where Children Soar to New Heights!
Call 972-712-4644 to schedule your free trial class today!
We strive to provide quality programs that focus on FUN, FITNESS and FUNDAMENTALS to children of all ages. Our professional coaching staff is committed to providing our young champions a strong foundation for learning and the confidence they need to succeed.
Registration in our class program is available all year round, depending on availability. We keep our student-teacher ratio small to ensure our students receive excellent instruction and attention during their classes. We offer beginner through advanced recreational gymnastics for children ages 18 months to 16 years as well as tumbling and a cheer & tumble class for children ages 8-16. Our full class schedule is available here. Summer Camp Registration has now begun! View our camp schedule here.
Our popular Music, Muscles & More program is offered every Friday morning from 9-noon. Need to run errands or make appointments? Leave the kids with us to have a great time while you have time to yourself. The program is for children ages 3-5 and includes plenty of gymnastics, arts and crafts, story time, musical activities and more. Call 972-712-4644 to make reservations for your child today!
We offer competitive programs for Women's and Men's Gymnastics and Tumbling & Trampoline under USA Gymnastics Jr. Olympic Program.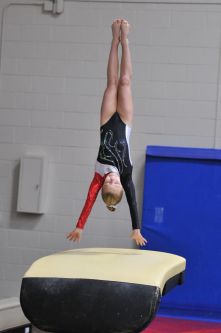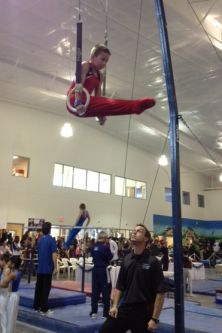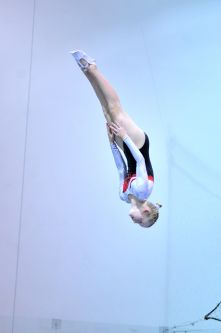 CONGRATULATIONS TEAM EAGLE!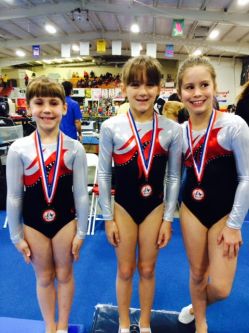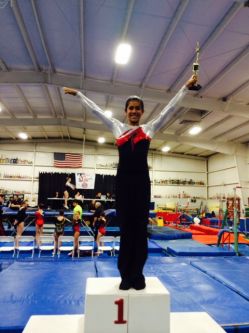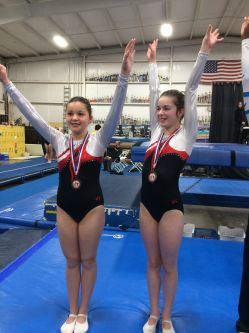 Our tumbling and trampoline team competed at the Trevino's Invitational on March 1st and our athletes earned several first place awards. Congratulations to the following champions: Level 3 tumbling - Kayla Green (7-8 yrs),Level 4 Tumbling - Mihika Sharma (11-12 yrs), Level 5 tumbling - Caroline Walker (9-10 yrs), Emma Armstrong (11-12yrs), Level 6 Tumbling - Cece Adams (11-12 yrs) and Addison Donahue - Level 5 trampoline (8 & under). Special recognition to our teams for winning 1st place for Level 5 and Level 6 tumbling, 2nd for Level 5 trampoline and 3rd for Level 6 trampoline. Full results here.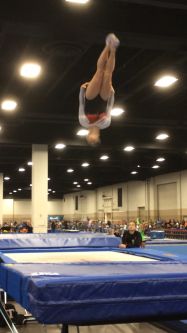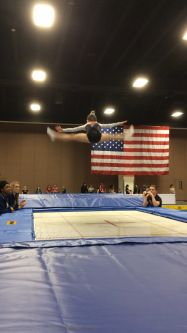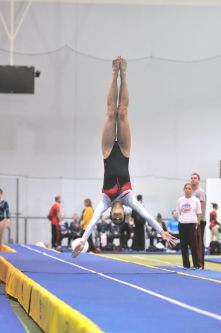 We will be hosting the Dare to Soar Tumbling & Trampoline Invitational on March 21 - 22nd at Fieldhouse USA. Join us for a high flying experience! If you would like to join our excellent list of sponsors for this event, please contact carol@eaglegymnastics.com. Thank you to the following sponsors for supporting our event:
Chirosport Specialists of Dallas
CK Painting
Huffines Hyandai Kia of McKinney
Lewisville Volkswagen

Massage Envy
North Texas Orthodontics
Rhea Lana's Consignment Events of Frisco
SWYPIT Merchant Services
Capstone Commercial
Michael Berryhill
State Farm - Jeff Cain
Check out Eagle on FACEBOOK! Eagle parents - we would love for you to share your pictures and comments with us, a drawing will be made each month for an Eagle Gift Certificate from all entries.
UPCOMING EVENTS

DARE TO SOAR TUMBLING & TRAMPOLINE INVITATIONAL - MARCH 21-22ND

- Hosted by Eagle Gymnastics Academy at Fieldhouse USA - We will be hosting over 350 athletes for this great competitive event from level 1 through elites. We hope you can join us and watch this exciting event! Admission fees will be $7.00 for age 13 & up, $3.00 for age 3-12.



MUSIC, MUSCLES & MORE

- 9:00 - Noon - EVERY FRIDAY MORNING! - Children ages 3-5. This fun camp includes games, a craft, musical activities and plenty of gymnastics to keep the children busy and having fun while Mom get's some errands run! Reservations must be made in advance, this program fills quickly each week. Call 972-712-4644 to register.




HOME SCHOOL OPEN GYM

- This program is offered every Friday from 1:00 - 3:00 for children ages 4 and up. We provide one hour of instruction followed by an hour of open gym time. Registration is required before Friday to ensure your spot in the class. Reservations are required for all special events to ensure we keep our coach/student ratio at 8:1. Please call 972-712-4644 to reserve your spot today!



CHEER CLINICS

- Cheerleading tryouts are coming up soon! Sign up for our cheer clinics to help perfect your jumps, motions, tumbling and skills needed to perform your best at tryouts! Students must be over the age of 10 to participate and will be divided into groups based on their tumbling level. Reservations are required as space is limited and groups are limited at 8 students per instructor. Cost is $20.00/clinic.


Dates:

Saturday, March 1st - 1:00 - 2:30

Saturday, March 1st - 3:00 - 4:30

Wednesday, March 12th - 1:00 - 2:30

Thursday, March 13th - 1:00 - 2:30


EAGLE CHALLENGE & EAGLE OLYMPICS - Click on the special events tabs to see details for these events happening in April!





Looking for great gifts for your gymnast ? Visit

Norberts

for more info!