BELIEVE & ACHIEVE
Eagle Gymnastics Academy...
Where Children Soar to New Heights!

Call 972-712-4644 to schedule your free trial class today!

We strive to provide quality programs that focus on FUN, FITNESS and FUNDAMENTALS to children of all ages. Our professional coaching staff is committed to providing our young champions a strong foundation for learning and the confidence they need to succeed.
Registration in our class program is available all year round, depending on availability. We keep our student-teacher ratio small to ensure our students receive excellent instruction and attention during their classes. We offer beginner through advanced recreational gymnastics for children ages 18 months to 16 years as well as tumbling and a cheer & tumble class for children ages 8-16. Our full class schedule is available here.
Our popular Music, Muscles & More program is offered every Friday morning from 9-noon, and starting in September will also be offered on Thursdays. Need to run errands or make appointments? Leave the kids with us to have a great time while you have time to yourself. The program is for children ages 3-5 and includes plenty of gymnastics, arts and crafts, story time, musical activities and more. Call 972-712-4644 to make reservations for your child today!
We offer competitive programs for Tumbling & Trampoline, Men's and Women's Gymnastics under USA Gymnastics Jr. Olympic Program.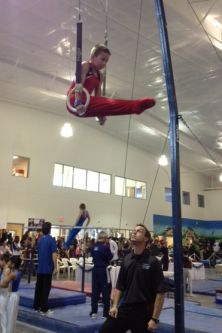 UPCOMING EVENTS
Best of luck to our Level 4 & 5 Teams at the North State Championships in Allen on April 27-28. The boys teams earned 1st place at their last invitational and are looking forward to continued success this weekend.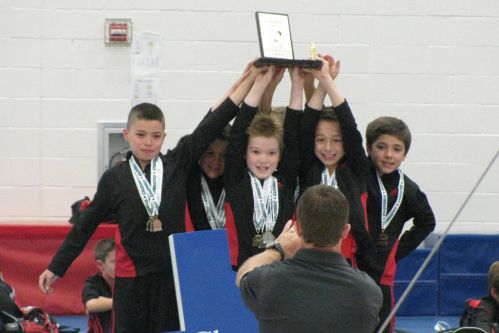 2013 ELITE CHALLENGE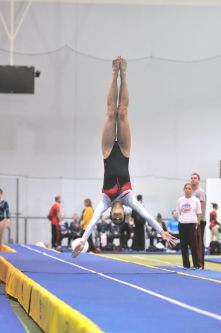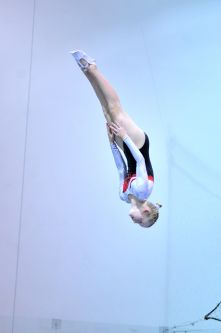 The Elite Challenge is coming to Frisco and Team Eagle will be competing! USA Gymnastics will be hosting this exciting event:
INDIANAPOLIS, April 24, 2013 – 2012 Olympians Steven Gluckstein of Atlantic Highlands, N.J./Elite Trampoline Academy and Savannah Vinsant of Lafayette, La./T&T Express, who is the first American to advance to the Olympic trampoline finals, and Olympic alternates Dakota Earnest of Plains, Texas/Acrospirits, and Logan Dooley of Lake Forest, Calif./World Elite Gymnastics, headline the field of 449 athletes competing in trampoline and tumbling's 2013 U.S. Elite Challenge, scheduled for May 3-5 at the Dr Pepper Arena in Frisco, Texas. The three-day event showcases the USA's best in men's and women's trampoline, tumbling, synchronized trampoline and double mini-trampoline.
Performances at the U.S. Elite Challenge, combined with the results of the World Games Trials, will determine the team that will represent the USA at the 2013 World Games, scheduled for July 25-Aug. 4 in Cali, Colombia. The World Games are the equivalent to the Olympic Games for events and disciplines that are not currently on the Olympic program. Also for the elite level, this competition is one of the qualifying events for the U.S. Trampoline and Tumbling Championships, as well as part of the selection process to determine the athletes who will represent the United States at World Championships and World Age-Group Competitions.
In addition to the junior and senior elite levels, the U.S. Elite Challenge also includes athletes in Levels 8-10 and the Olympic Development Program. Athletes will earn points for the Olympic Development Program Team based on their performances in Frisco.
Summer will be here soon! Check out our summer camp schedule and contact the office at 972-712-4644 to register.
Check out Eagle on FACEBOOK! Eagle parents - we would love for you to share your pictures and comments with us, a drawing will be made each month for an Eagle Gift Certificate from all entries.
UPCOMING EVENTS

MUSIC, MUSCLES & MORE - 9:00 - Noon - EVERY FRIDAY MORNING! - Children ages 3-5. This fun camp includes games, a craft, musical activities and plenty of gymnastics to keep the children busy and having fun while Mom get's some errands run! Reservations must be made in advance, this program fills quickly each week!

HOME SCHOOL OPEN GYM - 1:00 - 3:00 - Offered every Friday from 1:00 - 3:00. The children will receive an hour of instruction, games and fitness activities followed by some open gym to practice their skills. We do require reservations for this event as it is led and supervised by our coaching staff and we like to keep our ratio at 8 children per instructor. Children must be age 4 and up to participate.

Reservations are required for all special events to ensure we keep our coach/student ratio at 8:1. Please call 972-712-4644 to reserve your spot today!