BELIEVE & ACHIEVE
Award winning, Eagle Gymnastics Academy...
Where Children Soar to New Heights!
Call 972-712-4644 to schedule a free trial class!
We strive to provide quality programs that focus on FUN, FITNESS and FUNDAMENTALS to children of all ages. Our professional coaching staff is committed to providing our young champions a strong foundation for learning and the confidence they need to succeed.
Registration in our class program is available all year round, depending on availability. We keep our student-teacher ratio small to ensure our students receive excellent instruction and attention during their classes. We offer beginner through advanced recreational gymnastics for children ages 18 months to 16 years as well as a tumbling and trampoline program for children ages 8-16. Our full class schedule is available here.
We offer competitive programs for Women's and Men's Gymnastics and Tumbling & Trampoline under USA Gymnastics Jr. Olympic Program.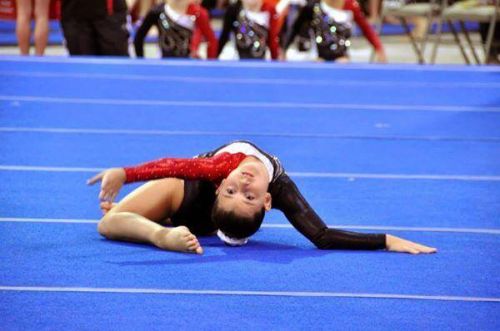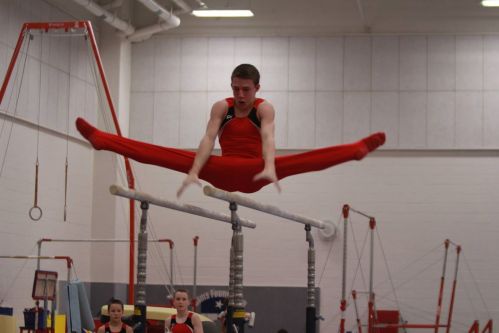 Congratulations to owners, Ginger Fox and Carol Van Biezen for being awarded Frisco Style's, Best of Business Award for 2014.
Congratulations to Eagle for winning "Best Gymnastics Facility" in 2015 Readers Choice Awards - Selected by the community in Frisco Enterprise Newspaper.
EAGLES SOARING HIGH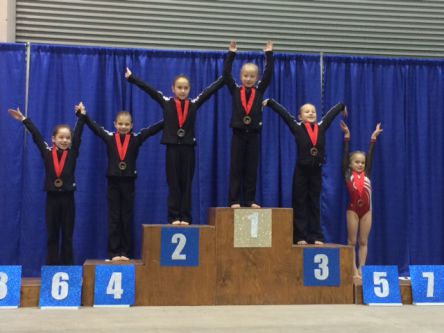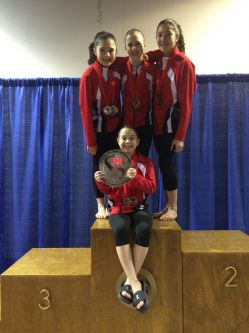 Our Tumbling & Trampoline team travelled to Lancaster for the Trevino's Invitational on February 21 - 22nd with our Level 6 team earning 1st place on all 3 events - trampoline, tumbling and double mini. Susan Stringfellow won top score for level 10 and Addison Donahue for level 6 from the entire competition on trampoline. Top 3 placements include:
Tumbling: Level 4: 7-8 yrs: Morgan Bedsole 1st, Kate Nicaud 3rd; Level 5: 8 & under, Kyrsten Dragoslavic 3rd; Level 6: 9-10 yrs: Addison Donahue 1st; 11-12 yrs: Macy Bowers 3rd; Level 8: 13-14 Gabby Navar 1st.
Trampoline: Level 4: 7-8 yrs: Kate Nicaud 1st, Morgan Bedsole 2nd; Level 6: 9-10 yrs: Addison Donahue 1st, Gracie Cain 2nd; Level 7: 11-12 yrs: Caroline Walker 1st; Level 10: 15-16 yrs: Susan Stringfellow 1st.
Double Mini: Level 4: 7-8 yrs: Morgan Bedsole 1st, Isabella Steele 2nd; Level 5, 8 & under: Kayla Green 2nd; Level 6, 9-10 yrs: 1st : Gracie Cain; 11-12 yrs: Mihika Sharma 2nd; Level 7: 11-12 yrs, Caroline Walker 2nd.
The Boys competitive team travelled to Las Vegas for the Black Jack Invitational and had some great luck in Vegas bringing back some of their own bling! The competition on Friday began with Technical Sequences and for Level 8, Bucky McAlpine placed 2nd All Around earning a bronze on vault and silver on rings. For level 9, Zach Thomas earned a bronze on rings and high bar. On Saturday, Bucky and Weston Sitz competed in the optional competition for level 8 with Weston posting some good scores and Bucky earning 3rd All Around with a gold medal on vault and pommels and silver medal on high bar.
2015 DARE TO SOAR INVITATIONAL
Join us for our 3rd Annual T & T Invitational to be held February 27-March 1, 2015 at Fieldhouse USA. This event will host over 500 athletes and we are looking forward to another successful competition. VOLUNTEERS NEEDED! Please contact carol@eaglegymnastics.com if you are interested in volunteering. More information can be found under the "TEAM" tab above.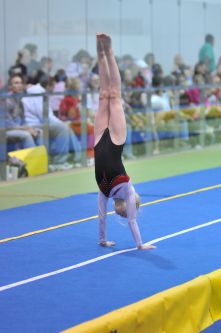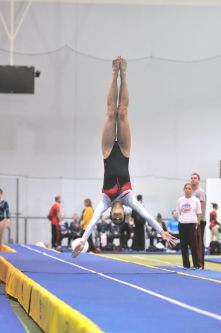 Thank you to the following sponsors for making this event such a success!
Chirosport Specialists of Dallas
C.K. Painting
CM3 Construction
I Am Second
New York Life - David Johnson
Rhea Lana's Consignment Events of Frisco
Spillum & Associates
Springfree Trampolines
Swypit Merchant Services

Check out Eagle on FACEBOOK! Eagle parents - we would love for you to share your pictures and comments with us, a drawing will be made each month for an Eagle Gift Certificate from all entries.
UPCOMING EVENTS
MUSIC, MUSCLES & MORE

- 9:00 - Noon - EVERY FRIDAY MORNING! - Children ages 3-5. This fun camp includes games, a craft, musical activities and plenty of gymnastics to keep the children busy and having fun while Mom get's some errands run! Reservations must be made in advance, this program fills quickly each week. Call 972-712-4644 to register.



HOME SCHOOL GYMNASTICS PROGRAM - This class is structured for homeschoolers to provide excellent instruction on the apparatus and allow some time for open gym practice time. The program is offered on Tuesday and Friday from 1:00 - 2:30 for children ages 4 and up. We provide one hour of instruction followed by 30 minutes of open gym time. This is not a drop-in program, students attend the classes weekly to ensure high quality instruction.

Please call 972-712-4644 for more details or to reserve your spot today!